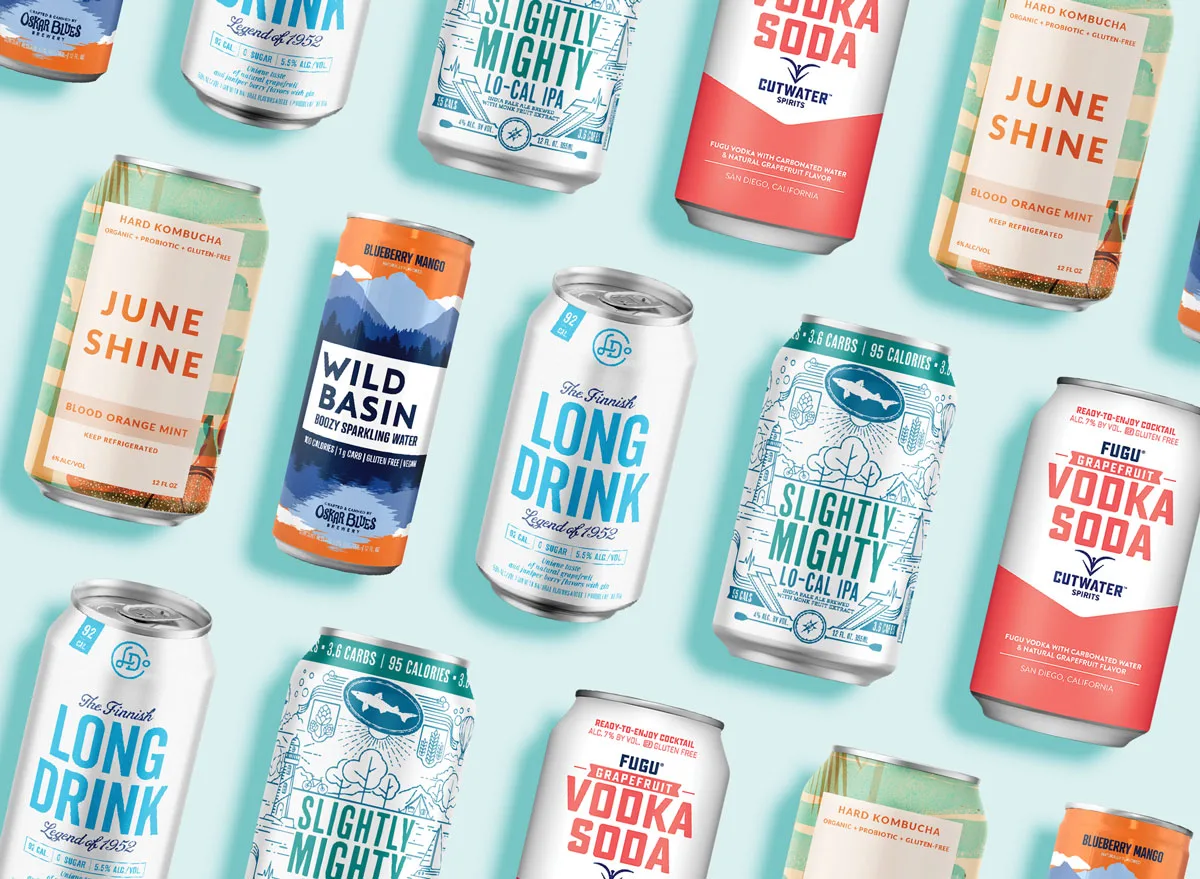 With retail shelves becoming more crowded by the day and brands fighting for consumer attention as a result, it's no longer enough to simply offer a reliable product. These days, brands must pull out all stops to attract customers and to stay relevant in consumers' minds long-term. The latest in decorative options for aluminum cans that can help brands amp up their visual appeal — and what it takes to create a lasting impression.
What aluminum beverage cans offer for market differentiation.
Beyond their widely acknowledged attributes of lightweight convenience, durability, product preservation and recyclability, aluminum beverage cans offer further benefits of heightened shelf appeal and a more engaging visual appearance. Due to their shape and structure, cans feature a wide, even printable surface for eye-catching graphics and messaging that can grab consumer attention from afar. They can also accommodate unique inks and other decorative techniques that play with light and offer a more engaging product experience.
A beverage can's design affects the brand's reputation and the consumer experience.
People judge products with their senses before anything else. Providing a striking package can create lasting impressions far beyond the point of consumption, as well as build brand recognition and familiarity. If a product is not visually or tangibly interesting, it can become challenging for a brand to convert consumers into customers. Beyond just being intriguing to look at, well-executed designs clearly communicate value and unique qualities to consumers, whether that be the use of certain ingredients or nutrients, potential health or performance results, origin information or other qualities that might be on their checklist. If a consumer feels a product does not speak to their needs, their lifestyle or personality—or that they spend too much time searching to find those details —they may pass it by.
Can design techniques that are trending.
The plethora of design techniques available for aluminum cans today only continues to grow, and they all serve their purpose depending on the beverage category. Both matte and metallic finishes remain popular—especially in combination with one another—as do detailed graphics and simple, bold imagery. The common thread in compelling designs that earn consumer loyalty are those that, regardless of style, appear premium and crisp. This standard is achievable by utilizing high-quality printing technologies that can accurately translate complex linework and color choices to the can surface in a sharp, consistent manner.
Another tactic brands are currently using to capture consumer interest is through varied designs and limited-edition designs, such as a seasonal look or a collectible edition that celebrates brand history or legacy. Often, these designs are offered in a multipack that features several variations and keeps the consumer repeatedly engaged from can-to-can within one case.
How brands can use decorative effects.
It's all about fostering a connection with consumers. Consumers today often invest in brands that they feel match their lifestyles or align with their personal taste. With this in mind, brands can build loyalty by either visually telling a company story that resonates or by showing consumers that extra thought went into the product in their hands.
A few ways to do that include pairing various inks or textures with one another to create compelling contrast, or to use interactive finishes that literally transform the beverage can into a dynamic experience. Some inks, for example, reveal new colors, messages, or other design elements in response to the conditions around them. The result for the consumer is a package that puts on a show and provides entertainment or intrigue throughout the consumption period—and likely a positive memory beyond. Brands can also leverage more tangible innovations such as varnishes that change the surface texture of the can and engage the senses, as well as shaping techniques that redefine the limits of the traditional beverage can and manipulate the cylindrical body of the can to create a more playful or premium silhouette.
Interactive can finishes with tactile and visual appeal.
Finishes can be tactile, meaning they offer a noticeable variation in surface texture to the touch or visual, changing appearance temporarily based on various elements. Both can be highly effective means of engagement as a product that utilizes these features will grab consumer attention past the point of sale.
On the tactile side, various innovations continue to help brands build this differentiation. Micro-embossing techniques add grip areas to the can body, while frosted or water-droplet-mimicking varnishes can lend a refreshing feel to the surface.
On a more visual level, brands can implement photochromic inks that display hidden designs when exposed to sunlight or thermochromic inks that partially change design colors once the can reaches a specific ambient or chilled temperature. These techniques offer the element of surprise and make consumption a unique experience when enjoying the product in various settings like outdoors or at special occasions.
Final decoration considerations for brand owners.
It's important for brands to remember that while there are myriad design options available, creating an effective product experience is not as cut and dry as simply putting ink to can. There are subtle nuances to printing on metal substrates that require deep expertise and finesse, as well as the ability to guide brands and tweak design graphics, color choices and varnish applications as needed to promote a legible, desirable appearance on the can surface. Working with the right supplier who understands the brand vision and target audience, knows how different decorative elements will play together and can be a supportive partner throughout the design and production process is imperative for a successful product launch.
---
Post time: Aug-30-2023